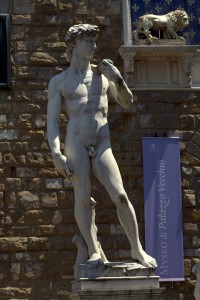 We're back for more sightseeing in Florence, and after yesterday's power walk we'll be taking easier today! Rick Steve's travel guide has a back entrance listed for the church Santa Croce (Holy Cross) and it's literally right outside our apartment's door! Through the leather school and workshop we enter the church, which is known for its many tombs of famous Italians. Besides the beautiful frescoes, stained glass windows and art (even after the massive flood from 1966), there are the tombs of Galileo, Michelangelo (a local, who went to this church as a boy), a memorial to Dante and many others.
We take our time to explore before heading out through the courtyard into the piazza. Then we're strolling towards the Mercato Nouvo (straw market) which is packed with leather and souvenir stands as well as tourists. But right up front awaits il Porcellini, the boar whose nose you rub & snout you feed (coins!) to ensure a return to Florence. Well, it surely has worked on me (back after 8 years!).
It's hot today, so we walk slowly across the Piazza della Republicca, towards the Baptistery, the Campanile and the Duomo. The lines are long (and in full sun), so we decide not to go inside (and nobody wanted to join me on the climb up the dome!). We enjoy the intricate details on the Baptistery's famous doors (by Ghiotto) before walking around the Duomo to see it from al sides.
We're also heading over to the Accademia, the museum that houses the original statue of David (the one outside the Palazzo Vecchio is "only" a copy), but the lines are even longer here, and the wait would be in the sun in a toast little alley. We forgo the sight in favor of some cold drinks back near the Duomo, and relax for a while.
Then a final stroll through the busy streets of Firenze, back to Piazza S. Croce (where we will have dinner at the Osteria later) and to the apartment for some downtime.