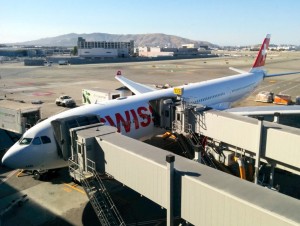 It's Thursday afternoon and we are ready to travel!
"We" includes not only Kirk and I this time, but Pat is joining us for this European Family Vacation! Sounds familiar? Is the Griswold music ringing in your ears already? (it is in mine..)
Check in and boarding our A340 plane for the Swiss International Air Lines flight LX 30 from SFO to ZRH this evening should be nothing out of the ordinary.
Until it is! As we take off from SFO, Kirk notices that we remain rather low for quite some time. Unusual sunny & nice weather makes for a beautiful view over the Pacific Ocean, the Golden Gate Bridge and the North Bay before we gain altitude and get on our way for real. Shortly thereafter, the first officer gets on the mic, to announce that this will be Captain Michel F.'s last flight before retiring from Swiss/Swissair after 30 years of dedicated service! And for that, SFO Flight Control had enabled them a nice farewell takeoff route from the Bay Area!
We're able to write little well-wishing cards for the captain, before drinks & dinner service starts. This is no British Airways Club World space or food, but it will do.
Just about 9 hours into over flight, we get a great aerial view of Paris, as we fly over and the clouds part. Then it's only a little over an hour before we approach landing in Zurich Kloten. Here – as the first officer announces again – the plan will be greeted by the ZRH Flughafen Feuerwehr (fire brigade) for a water cannon salute. And sure enough, before we taxi to the terminal, the water fountains are shooting over us and the passengers erupt in applause. What a welcome!
One would think I had this all planned, but while I'd love to, I can't take credit for it (although I did say we'll take Swiss and be on this day/flight when we booked the trip a few months ago!)
Being seated in the back of the plane, it takes a bit to get off, stretch and walk towards passport control. After picking up our luggage, it's off towards the exit to catch the train to the city & hotel.
But one more surprise awaits! As we enter the arrivals hall, 2 crazy Austrians are waiting there for us, flag in hand, ready for pick up! Tina and Charly – soon to be married – decided they had nothing better to do this Friday afternoon than to drive over from Goetzis (1 ½ – 2 hrs) to pick us up and take us to the hotel! Nicely played, sister! (She calls it payback for my surprise visit at her dress shopping weekend last November ..)
After a big Hello! We had to the hotel … Zurich Marriott, located downtown. While checking in, my good friend Nils (who works here) comes down to the lobby to greet us, meet my family and he brings Katja with him – another surprise since I didn't know that she now worked out of here, too! A mini reunion – just like in old times!
After a quick refresh, Tina, Charly, Pat, Kirk & I make our way along the Limmat river towards the city, strolling along and enjoying the nice warm weather, while taking in some first sights.
A couple of hours later it is time for the 2 of them to head home, while the 3 of us stay here, ready to give into the jet lag sleepiness.
So far, a very fun & successful trip!