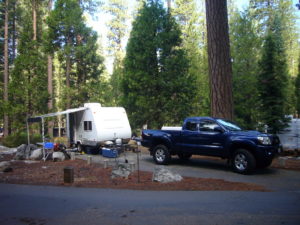 2014 will see two group camping week/weekend, as we were able to get multiple sites together at Pinecrest! Many weeks and much planning in the making (thank you Kristina for all the organizing) have led to a large group including several Pinecrest Newbies this summer.
The 3 Anderson's plus Emma, the 5 Coble's (Alisa and Miles have to leave come Friday), the Bryan's (Michelle, John & JW), the 4 Rosellini's, the 4 Alexanders, the 3 Stewart's and the 2 Sylvester's (+ J.T.). Spread out over 5 sites at the end of the A loop, we have the perfect set up. Weather is good, and company is great. Even a rain shower on Saturday afternoon can't stop us.
Friday gets everyone in camping mood, with Jeff's breakfast, lunch at the beach and campfire at night.
Saturday has the hike around the lake on the agenda. Most of the group are going, and so are all the tourists & campers today! The trail is packed! But by the time we stop for lunch in our private little spot at the river inlet at the far side of the lake, we can hear the thunder rolling in … and the trail is getting less and less hikers. The heat stays on, and the rain won't come until well after we get back to camp. Everyone makes it back, even when a bit of dehydration slows down the group. (Longer & hotter walk than expected.)
While we're awaiting dinner to be ready, the kids gather around Weston, who is on his back on the big rock, waiting for his tooth to be pulled … yikes!
Sunday is mostly rained out, but we're prepared: shades are up, tarps are on, playing cards are out and snacks are good. The sky clears up just in time for dinner and a movie under the stars, before it's almost time to leave again on Sunday morning.
A great group camping weekend comes to an end … let's do this again!