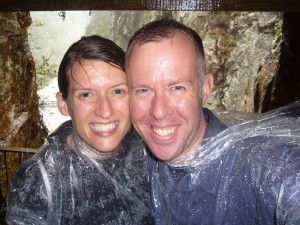 So – I read that New Zealand gets quite a bit of rain in the fall. And we're here in the fall … and we can attest to the above statement. After a night of continuous rain fall, camper-shaking storms and waking up to a drenched campsite (and curtains), we decide that the ongoing rain will not stop us from exploring Karangahake Gorge, which is located just a few miles down the stream from our campsite.
The Karangahake Gorge (a DOC Preserve) combines rivers, gold-mining ruins and relics, torch-requiring tunnels, swing-bridges over fern-draped gorges and beautiful viewpoints. Note to self – wear shorts and water shoes next time, as the hiking boots are not waterproof as advertised and the cheapo rain ponchos barely cover our backs.
After about an hour on the trail, we are drenched … but happy to have seen this place (we did the Windows Walk trail). After getting into a dry change of clothes back in the camper, we head a few miles west back to Paeroa. We have lunch at the Bakehouse Cafe when the sun peeks out for the first time in what seems like ages (and it's only temporary).
It is time to get back on the road – me at the wheel this time. That's scary. On the left. With a 6-speed manual stick shift … at my left hand side … In a big truck. Stay left … but towards the right center. Not as easy as one might think when crossing over a small bridge with oncoming traffic! But 150 km or so and 2 hours later we safely arrive at Taupo, our destination for tonight.
We check in at Taupo DeBretts Campground for electrical hookups, showers, laundry and wi-fi. Don't come here for the wi-fi.
The rain lightens up a bit (but never stops) as we settle in for the night.