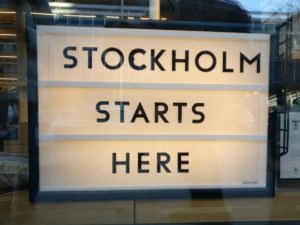 It is time to say Goodbye to Tromsø as we leave the freshly snow-coated city through the maze of tunnels under the hills. Never have you seen less daylight when crossing an island than here – the tunnel starts in the middle of town and ends right at the airport, roundabouts and intersections under ground included!
Check in/bag drop, security and going to our gate only takes minutes at the small TOS airport, and soon we are walking across the snowy tarmac to our SAS plane, which will take us to the next stop (and country) on our tour in just under 2 hours: Stockholm, Sweden.
Once we arrive we have to change our minds from Norwegian (which has some German- and English-relateable words) to Swedish (no chance), and from the NOK to SEK (exchange rate is slightly different). Also our SIM card worn't work anymore, so free Wifi only to connect online. But that is available just about anywhere, so off we go to catch the Arlanda Express train from the Airport to downtown Stockholm.
Just a few minutes walk from the central station is our hotel for the next couple of nights – At Six. A great find on Expedia, never heard of before, no obvious chain affiliation, but (finally) a luxury hotel again! Same room rate as the last two hotels, but we get immediately checked-in early by friendly staff, an upgrade to Junior Suite, welcome amenity to celebrate our anniversary and just about anything you'd expect from a nice hotel. (Yes, after almost 22 years with Marriott I'm having a hard time "roughin' it".)
After settling in, it's time to head out and explore the city. The sun is shining and the thermostat says 8 degrees C plus (46 F), a high on our trip, so we are on our way. First up – lunch! Kirk looked up TripAdvisor for best "cheap eats" in Stockholm (we're still shellshocked by pricing in Norway) and find Kajsas Fisk, a small restaurant inside the Hötorgshallen food market hall. Their fish soup comes highly recommended, so a no-brainer for Kirk. I'm going with the Fish & Chips, which is about as fishy as I'll get. The meat counter is around the corner … But with our bellies full and our wallet having taken no offense to pricing here, we are happy to get the touristy part of the day started. Walking through the shopping streets of the Norrmalm district, we get a better sense of orientation on where we are. Busy streets on a Tuesday afternoon, with locals and tourists alike. Very different from the quiet daytime streets in Tromso.
We head south towards Gamla Stan, the old town of Stockholm. First we cross the Riddafjärden to get to a little island housing the Riksplan (federal buildings and parks), before crossing the water once more to get to the much larger island of Gamla Stan. Here is where the Royal Palace (Kungliga Slottet) sits, as well as a maze of tiny old streets, churches and more. A top tourist spot, but very cute. And in late-February not even overrun! We walk around most of the island before turning into a tiny bar for a couple of drinks and to warm up after the sun had gone down. Once it gets late we head back to the hotel. The Belgian Waffle place we had our eyes on early in (planning for a sweet dinner) was already closed when we had returned to it and so the hotel restaurant it is. Dessert is very good here, too, and the walk back to the room only a few steps!