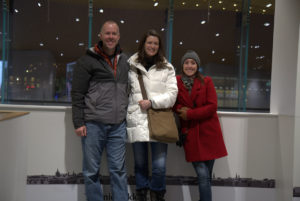 Why are we getting up so very early this morning? Oh, right, we're heading to the airport for our next leg of the trip: Helsinki.
Norwegian Air will take us from ARN to HEL in just under an hour, but with change to Eastern European time zone, we're short another hour this morning. As experienced before, free WiFi is available just about anywhere, and so we have no problem following the instructions Kirk's Air Force friend Janel sent us on how to get from the airport to our hotel in Helsinki using public transportation.
As we arrive at the Hotel Katajanokka (Tribute Portfolio), I recall that this building used to be a prison! Sure enough, the hallways still look like you'd expect (kind of like at Alcatraz), with cell doors leading to the guest rooms. A little more spacious and a lot nicer than any prison cell is the room we have on the 4th (top) floor, overlooking the prison yard (aka courtyard). The staff I meet in the hallway (as I'm exploring the history of the building) is more than happy to tell me some more details about the prison. It was closed in 2002 having no longer met the Finnish standards of prison accommodations, and was renovated and re-purposed to a hotel which then opened in 2007.
By mid-day, Janel – who now lives here in Helsinki – comes to the hotel to pick us up to be our personal tour guide for the day! Thanks Janel! 🙂
After lunch at a brewery we check out Senate Square and the (Protestant) Cathedral, the Presidential Palace, the old university library, Market Square at the harbor (great place for salmon soup), the Esplanade and Torni (the tower), where we stop for a refreshing drink after enjoying the view from the top. Next stops include Helsinki Music Centre, Finlandia hall and the very impressive, brand-new Oodi Library. Here you can not only read books or use computers, but also use the sewing machine, test kitchen, large-size printers, sound (and video) recording studios as well as private work and meeting space. A place for all – open, free, and welcoming. What a treat for the locals!
Following a glance at the Opera house and Kamppi Chapel of Silence (wooden chapel), it is time to warm up again with a drink at another bar with a view. Having had a great day and covered most of Helsinki's sight (even though we "missed out" on the true-Finnish sauna experience) it is time to head back to the hotel.