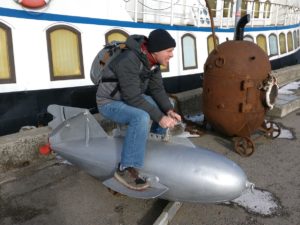 It's our last day of sightseeing for this trip, and we want to make the most of it. So we follow Janel's recommendation of catching the ferry across the Gulf of Finland from Helsinki, Finland to Tallinn, Estonia. The EU and EURO country was a part of the Soviet Union in the past, but now we don't even need to show ID to get in after a 2-hour boat ride across the Gulf of Finland.
The weather is showing its sunny side but it comes at a steep decline in temperature. We are colder than ever on this trip when taking the tram from the hotel to the harbor just after 6am. It's not any warmer when we disembark the ferry in Tallinn, adding Kirk's 29th country ever visited and my 35th to our lists.
With only about 3 hours to spare here in town, we head straight towards Tallinn's Old Town – inside the medieval walls. It's a step back in time, and with the cold weather and early hour (it's only approaching 10am), there are barely any tourists around. We explore Estonia's capital on the Baltic Sea with its cobblestone streets, 15th-century defensive tower, and and much more.
We stroll past the Town Hall Square and Town Hall (Gothic style, built in 1402-1404 and the "hub" for the last 8 centuries), St. Nicholas Church (originally from 1230, withstood reformation looting in 1523 but destroyed in WW2), the Tallinn Tower Wall (13th century), St. Olaf's Church (14th-century Gothic Church with its 124m current spire, open during summer months) and the Orthodox Church of St. Nicholas (the first neo-classical church in town, 1820-1827). Further sights along our route include St. Alexander Nevsky Cathedral (established in 1900) and finally the view points for great overlooks over Tallinn and the sea.
We wanted to check out the KGB museum as well, but it is open for scheduled/guided tours only and today's time doesn't fit our very tight schedule. One reason to come back!
After a quick lunch snack at a tiny cafe build in the city wall we are already heading back to the ship, ready for our 2-hour ferry ride back to Helsinki. We arrive mid-afternoon and take the tram back to the hotel, to collect our luggage – and head straight to the central train station to catch a ride to the airport.
Goodbye Estonia and Finland, time to get to Norway to wrap our our trip with one last night in Oslo!