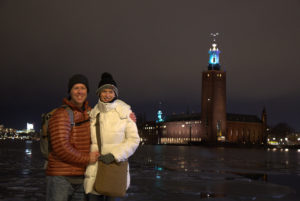 While we'd love to make this as lazy of a day as possible, we have a couple of agenda items that require us to roll out of bed at a decent time and get going.
First up: breakfast at the Wiener Caffeét (anno 1904), a traditional Viennese Coffeehouse that I found in a brochure and declared a must-visit for today. Just a few minutes from the hotel, we enjoy the authentic atmosphere and food to get the day started properly.
Then we stroll back towards the water, past the Kungsträdgården (park) with an ice rink open to all and the St. Jacobs Kyrka. Then we walk past the Kungliga Operan (Opera house) before crossing over the Lilla Värtan (river) again towards Gamla Stan. This time we walk all around the Royal Palace, to get views from all angles. It houses various museums, but we are here for a 12 noon appointment in the Yttre Borggården (Parade Square) – to watch the Changing of the Guards (Swedish Armed Forces)! While we only get the "limited version" during winter (no music, no horses), it's still a 40 minute spectacle worth the wait in the cold.
To warm back up afterwards, we head to the Belgium Waffle place just a few streets away, and enjoy some sweet, chocolaty goodness! Then we're ready to relax a little, before heading out for some more sightsee-walking around town.