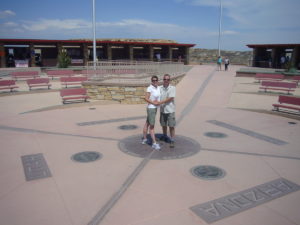 Mesa Verde National Park is impressive – once past the ranger/entrance station, it's a 15-mile drive to the Far View Visitor Center, covering approx. 1,500 feet in elevation gains, but not without taking us up and down and up and down and up again, thru, along and over the green plateaus.
We decide on the self-guided tour of Spruce Tree House in the Chamin Mesa part of the park. It's a another beautiful ride to get there, and once out of the truck, we're ready to hike down the canyon to get a close up view of the Spruce Tree House dwelling, including stepping down into the kiva. Nestled under the overhang of the rock, it's protected from the hot sun and the fierce winds, as well as rain and snow in the winter.
After returning to the top, we explore the exhibit at the museum before getting on the Cliff Palace loop-road tour. The Cliff Palace is the world's largest cliff dwelling, and quite a sight to see, even if just from the observation point (tickets required to hike down). We see a few more cliff dwellings as we continue the loop tour, before heading back out of the park around lunch time.
Then it's time to head a bit further west and south – to get to The Four Corners! The only place in the US where 4 states meet (Arizona Utah, Colorado and New Mexico), the Navajo tribe has built a monument for everyone to enjoy, and now it's our turn! With 2 hands and 2 feet, we each manage to stand in all 4 states at the same time … or just stay really tight on the very center spot! It's a fun place to be, regardless of the hot sun beating down on us.
We backtrack to Colorado for a few miles, before crossing over into Utah and travel west for a couple more hours, to our final destination for today: Natural Bridges National Monument! Here we set up camp at the park campground (site #7 of 13 total), with no hook ups, no water, just a vault toilet. And a pretty sunset!