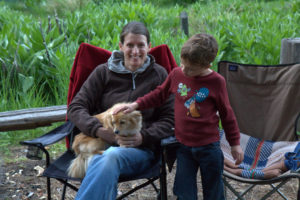 It's J.T.'s birthday weekend, and we're heading into the sierras for a long weekend
in Calaveras Big Trees State Park, just outside of Arnold, CA on Hwy 4.
Unlike 3 years ago in our 2nd Fun Finder season, this Memorial Day weekend does NOT have snow in the forecast. Or rain.Or anything in between. Season 5 is so much better … although the elevation is comparable to Pinecrest, CA, the winter was nowhere near the same (drought!), making for a nice and dry trip.
Friday evening is arrival, and site #32 is ours, while the Kristina, Clae & Kody park the Cougar up in the next loop at site #59. They have brought cousin Weston along, and Emma & family are staying at their cabin in Arnold this weekend, so they will come visit, too.
Saturday, Teri & Greg drop off Emma and pick up J.T. in return, as dogs are not allowed on the park trails. Our little group sets off to the Big Stump to get the walk through the North Grove started. The Giant Sequoias in this mixed conifer forest are impressive, the ones standing tall as well as the ones long fallen over.
This holiday weekend is even busier than normal, due to the 150th anniversary of the California State Parks, and the opening of the new Visitor Center here at Calaveras Big Trees. But even with so many people and screaming kids all around, the forest is calm and calming.
Kody's school bear gets to spend this weekend with us – and as a project for class reports back on its adventures.
Saturday afternoon we pick up J.T. from the cabin and enjoy dinner around the fire.
On Sunday, we all pile into the Tundra and head up a bit further, reaching peak elevation along Hwy 4 at Lake Alpine, where we are off for another little hike along the lake. And we find snow! (but it's almost gone).
Monday comes way too fast, but not without all of us wishing J.T. a very happy birthday! 2 years with us today (Memorial Day), and about 4 years old now!